The number of mobile devices being used in enterprises is growing at a rate faster than ever, couple that with BYOD (bring your own device) policy that some enterprises have implemented, IT's responsibilities have increased tremendously from managing a relatively homogenous environment to one that is multiplatform and truly heterogeneous. To handle this new challenge, IT must be adept at managing the following functions at minimum:
Policy
Deployment
Operations
Content
Compliance
Security, and
Monitoring
Data Dynamics MDM
The solution to all the above challenges lie in using MDM solution from Data Dynamics that enables enterprise mobility management at just a small fraction of the cost of developing a customized internal system.
No Capital Expense
Since our MDM solution is deployed in a SaaS (software as a service) multi-tenant cloud architecture, our customers incur no upfront costs. There are no servers to purchase and deploy. And since there is no infrastructure to build, customers are also spared the headache of managing such infrastructure.
Scalability
Our solution is scalable, so whether you have 10 users or 100,000, you have the same solution available to you. Customers with large number of users can always start with a small subset and try our solution for a period of time before they implement it enterprise wide.
Visibility and Control
Want to know who is connecting to your corporate network and using which devices? Do you wish you had centralized control of your mobile environment? Let us show you how easy it is for you to achieve this using just an ordinary web browser accessed from anywhere. From just a single screen you can provision, secure and manage all devices. Additionally, you can just as easily lock, disable, or wipe a lost device (such as a smart phone) all remotely.
Security and Compliance
Our MDM Solution allows you to enforce enterprise level policies to all devices to enable comprehensive mobile security on both company and employee owned devices.
Management of Heterogeneous Mobile Environment
Our MDM solution, being cross platform compatible, works with all major devices (smartphones, tablets, etc.) and operating systems (iOS, Android, etc.). Some of the devices that are solution is compatible with includes:
iPhones
iPods
iPads
MacBooks
Windows Phones
Windows Tablets
Android Phones
Android Tablets
Enterprise Integration
Our MDM solution seamlessly integrates with clients' existing infrastructure such as Microsoft Exchange, Active Directory and others to simply workflows and maximize the benefits an enterprise can reap from a solution like ours.
Role Base Privileges
Our MDM solution allows for role based access rights so that different people in different departments (e.g. HR, Finance, etc.) can gain the appropriate level of access and visibility into the company's mobile environment and extract information that is pertinent to their needs.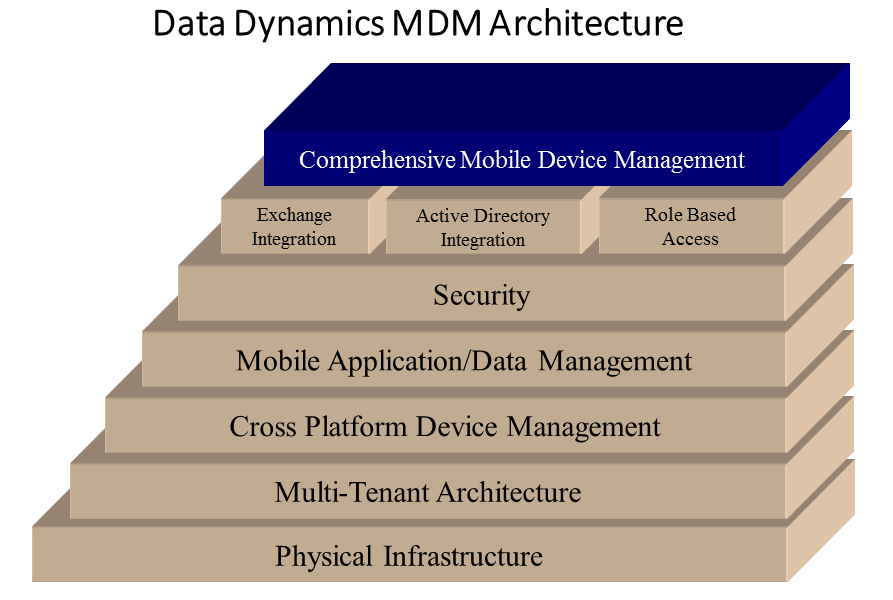 Interested and Want to Know More?
Call us at (314) 368-5064 or send us an email at [email protected], and we will be happy to give you a demo!